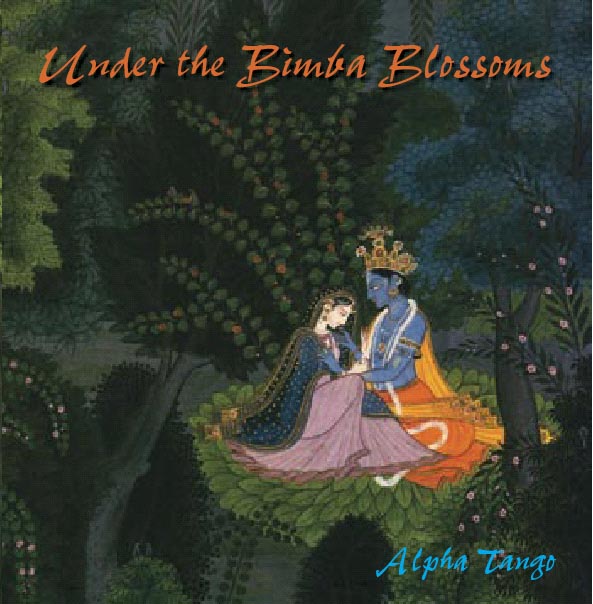 UNDER THE BIMBA BLOSSOMS
A WORLD BEAT POP OPERA

ALPHA TANGO: TOM FALLAT / HEIDI DRUCKER

based on "Gita Govinda" by Jayadeva, 12th Century Indian poet
lyrics adapted from the English translations of the Sanskrit by George Keyt; Barbara Miller, with permission of Columbia University Press; and Sir Edwin Arnold
Concept, direction and lyrics by Heidi Drucker and Tom Fallat
Music composed by Tom Fallat and Heidi Drucker
Graphic Design by Steve Miller
Original painting: "She desired to Triumph," collection of Anupan and Rajika Puri used by gracious permission of the owners
Additional Artwork: Carl Smool

Featuring:
Michael Nicolella, Michael White, Vishal Nagar
With Todd Gowers, Tony Chapman, Sura Charlier, Greg Powers, Liz Dreisbach, Richard Middleton, Michael Lawson, Larry Ludwig, Jim Madara, Shankar, Lisa Lewis
The story of Under the Bimba Blossoms and Gita Govinda

In a forest on an island where two rivers meet, spring brings a riot of activity. Krishna has come to earth to cavort with the female cowherds, or gopis. As he seduces the women with his flute playing, Radha, Krishna's true love, wanders the forest searching for him, longing to join with him. Her friend and confidante, or Sakhi, sings to her, to heighten the mood. When Radha comes upon Krishna in his love play and speaks to him, Krishna forgets what he's doing, and can think only of Radha. Radha is hurt and angry but still wants him, and she runs off to hide in the forest. Her Sahki acts as go between, embellishing messages, elaborately telling each what the other is going through, and giving the lovers advice. Krishna is remorseful. He implores Radha to forgive him. She refuses. While they are apart, Radha imagines Krishna making love to another very beautiful woman. Krishna finally charms Radha with submissive words, placing her foot upon his head. Heightened by the experience of separation and jealousy, they make up and make love. In the morning, Krishna gently helps Radha put on her clothes and makeup before she returns to her household.


Under the Bimba Blossoms was produced with the support of the Washington State Arts Commission, Artist Trust, and the following donors:

Jay Sedrish, Vanessa DeWolf, Albert Brown

"The tender skin of your cheek, you rogue, gleams pale like the Madhuka Flower"

Karen Schaffman, Helen Landalf, Diane Sukovaty, Michael Clawson, Eleanor Grunberg, Jennifer Mohr, Todd Gowers, Renee Marceau, Tim Girvin, Chris Elliott, Nina Martin, Annie Brook, Deanna Carol, Teri Bassett, Aysha F. Haq, Karen Smith, Joanne Petroff, Virginia Sabado, Rob Chiodi, David Montaseno, Clara Bakerman

"The beautiful blue of the lotus is shown in your eyes"

Tracking Engineers: Jon Sage, Aleah Ventura, Bo Anderson, Korby Sears, Shane Russell, Mollie Platt, Steve Miller, Tom Fallat, Heidi Drucker
Digital Editing and Premixing: Korby Sears, Aleah Ventura, Tom Fallat
Mixing Engineers: Tom Fallat, Aleah Ventura and Heidi Drucker
Project Coordination: Evan Konecky, Aleah Ventura, Tom Fallat, Heidi Drucker

Vocals: Heidi Drucker, Tom Fallat, Vishal Nagar
Bimba Lips Chorus: Greg Powers, Michael Nicolella, Heidi Drucker, Tom
Fallat, Lisa Lewis, Liz Dreisbach, Richard Middleton, Maria Mälksoo
Guitars: Michael Nicolella, Jim Madara, Tom Fallat
Upright and electric Bass: Todd Gowers
Violin: Michael White, Jim Madara
Flute: Sura Charlier
Tenor and Soprano Sax: Tony Chapman
Piano: Richard Middleton, Tom Fallat
Sitar: Larry Ludwig
Clarinet: Liz Dreisbach
Drum Set, Drumkat, Marimba, Synthesizers , Samplers, Harmonic voice sample: Tom Fallat
Tabla: Vishal Nagar
Hand percussion: Shankar, Tom Fallat
Accordion: Michael Lawson
Harpsichord: Lisa Lewis
Trombone: Greg Powers
Tamboura, Didgeridoo sample: Heidi Drucker and Tom Fallat
Handclaps: Korby Sears, Jim Madara, Heidi Drucker, Tom Fallat


Special thanks to individuals whose support was invaluable to the creation of this work: Tor Dietrichson, Evan Konecky, Ramesh Gangolli, and numerous others who encouraged us during this intense process, including all our friends.

Under the Bimba Blossoms originally appeared as a stage presentation at On the Boards, in Seattle, 1996, with Ratna Roy and Kathleen Hunt, choreographers; Chapala Mishra, Lara McIntosh, Louise Zamparutti, Heather Rudin, dancers; Fallat, Drucker, Jenny McLaughlin, Renee Marceau, Jim Madara, musicians; and projected slides by David Capers, George Stroud, Evan Konecky, Heidi Drucker, and Tom Fallat

Tracks:

A Hundred Blooms (9:45)
Hari's Flute (5:44)
Wanton Ways Blues (6:51)
In a Forest on an Island (5:54)
Mad Crazy Love (3:44)
Only Speak (4:28)
Gold on Sapphire (2:33)
Yield to Me (2:38)
Nymphs of Heaven (5:03)
Bimba Lips (6:43)
High Performance (4:00)
In the Morning (5:40)

All Songs ©Fallat/Drucker 1995-2005
Published by Savage Fruitarian Music
Administered by BMI
All Rights Reserved
Produced By Tom Fallat and Heidi Drucker, with Aleah Ventura
At Sound Sound Studios, Seattle
A Savage Fruitarian Production ©2005

Bimba mamordica coccinia - a climber with bright red fruit
listen to samples and buy Under the Bimba Blossoms at